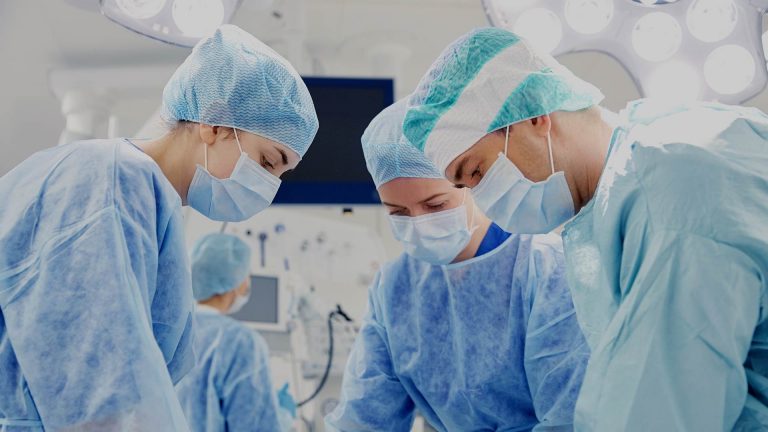 Human beings are living longer and healthier lives than ever, however sometimes this longevity requires assistance.
In recent years, there has been a surge in the need for orthopaedic procedures, such as hip and knee replacements.
In the United Kingdom, there is currently a waiting list of over 700,000 people who require trauma and orthopaedic surgery. Surgeons and their current techniques and medical devices are struggling to keep up.
However, the field of orthopaedics has always been a hotbed of innovation. Numerous technological advances are shaping the practice. New robotic-assisted surgical devices are being developed and utilised in orthopaedic surgery. All trends point toward more Artificial Intelligence (AI) and augmented reality in the operating room of the future.
In this article, we will take a closer look at robotic surgery and its expected role in shaping orthopaedic surgery in the coming years.
What Is Robotic Surgery?
The thought of a robot carrying out surgery might once have been in the realm of science fiction.
However, robotic surgery is fast becoming common practice and transforming medicine worldwide. More than 600,000 robotic surgeries are performed in the United States every year.
The use of robots in surgery was first put forward by the US department of defence. Authorities were looking for a way to minimise battlefield casualties in the late 1960s. At the time, robots were revolutionising manufacturing, and the applications of the technology seemed endless. Nevertheless, the additional technology needed to make it work took several decades to catch up.
One of the first times it was used in the late 1980s was in a prosthetic hip replacement surgery. Later on, virtual reality and technology to manipulate medical devices came about. In the early 2000s, the first robotic surgical system came on the market. This boosted the field of minimally invasive surgery. There are now dozens of devices targeting different areas and specialities.
There have also been exciting developments using Artificial Intelligence in which surgical robots learn to detect disease and assist in surgery. This can help in planning the operation or allow the surgeon to control the medical device using movements of their eye or head. AI is also allowing some surgical robots to be trained to carry out precise, repetitive tasks. AI can also reduce any trembling in the manipulation of instruments. This can allow for a greater degree of accuracy and improve outcomes for the patient.
For now, robotic surgeries still have the surgeon in the driving seat. They are sitting next to the patient and
running the whole operation. The surgeon inserts 3D cameras into the patient for a magnified view. They then manipulate the machine's controls.
How Are Robotics Used in Orthopaedics?
Orthopaedic surgery is well suited to robotics because it deals with bones, which are fixed objects with a recognisable position and form. As a result, it is far easier to control robotic procedures on bone than on human tissue. The first use of robotics in orthopaedic surgery was to help surgeons plan and carry out hip replacements in the nineties. Robotic orthopaedics now allows for medical assistance in hip, knee, spine, ankle, and shoulder surgeries. It is particularly useful for joint replacements and joint resurfacing.
Here are some of the main applications of robotics in orthopaedics:
Surgical Planning
Many orthopaedic robotic systems incorporate advanced methods of surgical planning. This can involve using CT scans to create a three-dimensional model to make precise measurements. This can guide the surgeon from start to finish of the operation. Some surgical planning systems also allow for a more personalised approach to the surgery. For example, they can take measurements that allow for a custom-made orthopaedic implant. Some robotic systems eliminate the need for CT scans. They are able to map the surface of the diseased cartilage and bone during the surgery. Analysis of patient-specific data can also provide insights to inform planning and patient care after the surgery.
A lot of the surgical planning feature of robotics uses AI. Gathering thousands of images and data allows surgeons to see what works best in similar scenarios. It also leads to the development of new smart technology. Ever faster processors, camera speeds, and cutting volume in newer surgery robots are also improving patient outcomes.
Robotic Machining of Bone
A major part of any orthopaedic surgery is bone cutting or drilling. A surgeon will do this to produce holes for screws, repair fractures, or shave the bone to perfectly fit an implant. While machining is a common process, it can lead to problems. The heat from machining can damage cells and tissues. Lack of precision can also lead to nerve damage in sensitive areas such as the spine.
Robotic surgeon systems can take precise measurements of bone density to drill or cut bone in a fast and accurate way that limits potential damage to the patient. Some robotic systems will give resistance and an audible warning to stop cutting if the surgeon moves the tool beyond the area laid down in the operation plan. Bone can be cut within a fraction of a millimetre, a kind of precision that a human surgeon could only dream of. The use of robots also means that fewer cuts to the bone is necessary
Optimised Placement of Implants
Whenever a bone or joint is replaced, an orthopaedic surgeon needs to insert the implant that will take over its function. One of the most important roles of robotic surgery is in perfecting the placement of the implant in a hip or knee joint. The artificial joint needs to be perfectly aligned for optimal mobility, movement, stability, and comfort. Each patient is unique, and a robotic system can map out the precise location of the implant to work with the ligaments and muscles. With hip replacements, robotic 3D modelling can simulate the range of motion of a patient's leg. This can show the surgeon where adjustments are necessary. It can also improve the patient's ergonomics and lead to less pain and injury in the future.
New Trends in Robotic Orthopaedics
There is no doubt that robotic orthopaedic solutions are here to stay. Technology is developing fast, with exciting new trends on the horizon. It seems as if every orthopaedic device company is getting involved in robot-assisted surgery — rolling out robots to assist surgeons operating on the knee, hip, shoulder or spine.
Two events in recent years especially signalled that robots were coming into their own in the space:
Stryker spent $1.7 billion for Mako Surgical in order to sell robotic systems to aid knee and hip
replacement surgeries, and;
Medtronic acquired Mazor Robotics for $1.7 billion so that it could expand into the robot-assisted spine surgery space.
In January 2021 DePuy Synthes announced FDA 510(k) clearance for the Velys system, touted as a first-of-its-kind, table-mounted ortho surgery robot with an efficient design capable of integrating into any operating room. Zimmer Biomet became the first company to deliver a comprehensive robotics platform for Knee, Brain and Spine procedures with their Rosa robotic platform.
Point Robotics MedTech Inc. (Point Robotics), a rising leader in the field of minimally invasive orthopaedic surgical robots, has recently received 510(k) clearance from the Food and Drug Administration (FDA) in the United States for its minimally invasive surgical robot POINT™ Kinguide Robotic-Assisted Surgical System. Point Robotics' approval marks both Taiwan's very first FDA-cleared surgical robot and the first ever hand-held robot framework equipped with a parallel manipulator for orthopaedic application in the world.
Here are a few areas where innovation is happening fast in the field of orthopaedics.
Augmented Reality
Orthopaedic surgeons are already using Augmented Reality headsets in the operating room. This overlays computer-generated information on top of what the surgeon is seeing. It can provide instructions, real-time patient data, or 3D images to help the surgeon make decisions.
3D Printing Implants
Robotic systems are now installing 3D-printed implants that have been tailored to the specific patient. Each patient has a different bone structure. A personalised implant will fit and move better with the patient's ligaments and tendons.
Personalised Care
This leads us to one of the most significant benefits of robotic surgery that experts say will shape healthcare in the future: Personalised care. Using sensors and smart implants, the doctor of the future will be able to measure their patient's range of motion, walking speed, and other metrics post-surgery. This could even be linked to smartphone applications to collect data about a patient's recovery. This data can be used to gather information and develop new clinical insights. Some applications already allow patients to report back to their surgeons. Technology such as robots and these kinds of sensors and applications will lead to more holistic
patient management. A better understanding of the patient and their environment will lead to better
recovery.
Benefits of Robotic Orthopaedics
Recovering from surgery can be long and painful. Especially when you have replaced a joint or had a surgeon drill into or shave your bone. The minimally invasive surgery offered by robotics leads to smaller wounds that heal faster. The precision involved results in less pain. This means;
The patient is less likely to need opioid painkillers.
Surgeries are quicker and more effective with fewer complications.
A robot is also far less likely to misplace a screw or cut into a crucial nerve.
Patients undergoing robotic surgery also experience fewer implant rejections and complications after surgery.
Get Customised Medical Devices Today
The field of robotic orthopaedics is developing fast. These new technologies are making the lives of surgeons easier. They are also improving outcomes for patients. There is no doubt that the quality of medical devices is crucial in any surgery.

AQF medical provides technical foam solutions to medical device companies around the world.
We provide foam packaging for orthopaedic implant solutions, as well as a wide range of other
medical devices.

Contact us today to learn more about our quality products.